17/03/2016
- Fantastic results at Prelims 2016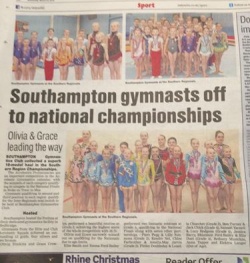 SOUTHAMPTON GYMNASTICS CLUB ACHIEVES 18 MEDALS WITH 19 GYMNASTS GOING TO NATIONAL FINALS
Southampton Gymnastics Club has been the home to World, European, National and Regional Medallists since 1968. This year has been no exception as more Southampton Gymnasts qualify to National Finals representing the Southern Region.
The Acrobatics Southern Region Preliminaries is an important competition in the Acrobatic Gymnastics calendar, with the winners of each category qualifying to compete in the National Finals in Stoke on Trent in May. Gymnasts qualifying in second and third position in each Region, qualify for the Inter-Regionals in April held at Southampton Gymnastics Club.
On Saturday 12th March, Southampton Gymnastics Club hosted the Prelims at their dedicated gymnastics facility in Redbridge, Southampton. Gymnasts from the Elite and Club Acrobatic Squads achieved an outstanding 12 gold medals, 4 silver medals and 2 bronze medals.
Olivia Simkins and Grace Crowley, performed a beautiful routine at Grade 2, achieving the highest score of the whole competition with 28.70. Olivia and Grace narrowly missed out on qualifying to Nationals due to age limits of National Final competitions.
Ellie Smith and Emma Ford-Bailey performed two fantastic routines at Grade 5, qualifying to the National Finals along with 7 other partnerships; Piers Pegg & Lilly Simmons (Grade 2), Kendre Nel, Chloe Farbrother & Amelia-May Jarvis (Grade 2), Finley Doubleday & Louella Churcher (Grade 3), Ben Turner & Jack Chick (Grade 4), Samuel Yarnell & Lucy Hodgson (Grade 4), Jessica Barry, Rhiannon Ford-Bailey & Ella Duel (Grade 4), Bethany Mustchin, Anna Tapper and Elektra Langer (Out of Age).
Nathan Leworthy, Southampton Gymnastics Club Acrobatics Head Coach said:
"We had 21 partnerships enter the Southern Region Acro Prelims last week, all the gymnasts have work very hard training between 4-6 days per week. I am so pleased with all the gymnasts that competed at the Prelims, it was a brilliant competition with results reflecting the commitment and hard work put in by the gymnasts and their coaches. 8 partnerships qualified for the National Finals as well as 7 partnerships qualifying for the Inter-Regionals. The hard work will now continue as the gymnasts prepare for the Finals."
Southampton Gymnastics Club has given thousands of children the opportunity to practice this great sport and offers classes in Pre School, Recreational, Competitive and Elite Gymnastics. For enquiries on how to join the club or if you would like to sponsor the Southampton Gymnastics Club, please call 02380 529952 or visit www.sotongym.co.uk