14/03/2016
- Prelims 2016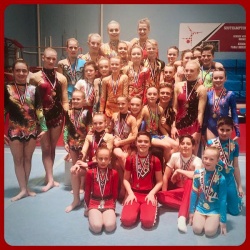 Acro Prelims: Saturday 12th March 2016
RESULTS
Regional Level (City Acro Satellite)
Grade 2 Women's Pairs
12th Place: Beth & Hanna 24.79
National Level (Club & Elite Acro Squads)
Grade 2 Mixed Pairs
1st Place: Piers & Lilly 27.94
Grade 2 Women's Pairs
1st Place: Olivia & Grace 28.7 (Highest Score of the Day!)
3rd Place: Zita & Lilla 28.15
Grade 2 Women's Groups
1st Place: Kendre, Chloe & Amelia-May 27.45
2nd Place: Pippa, Charlotte & Jessie 27.2
Grade 3 Women's Pairs
2nd Place: Katie & Jasmine 28.3
Grade 3 Women's Groups
2nd Place: Hannah, Lowri & Poppy 27.8
5th Place: Amy, Charlotte & Holly 26.36
Grade 3 Men's Pairs
1st Place: Finley & Louella 28.58
2nd Place: Tom & Zelda 27.57
Grade 4 Women's Pairs
3rd Place: Grace & Chloe 27.10
4th Place: Emma & Issy 27.08
Grade 4 Men's Pairs
1st Place: Ben & Jack 27.13
Grade 4 Mixed Pairs
1st Place: Sam & Lucy 28.26
Grade 4 Women's Groups
1st Place: Jess, Rhiannon & Ella 27.42
Grade 5 Women's Pairs
1st Place: Ellie & Emma 55.67
Out of Age Women's Groups
1st Place: Bethany, Anna & Elektra 53.00
11-16 Women's Groups
1st Place: Beth, Katie & Abi 54.25
11-16 Women's Pairs
1st Place: Steph & Toula 55.8
11-16 Men's Pairs
1st Place: Jack & Alex 54.85
Partnerships going to the National Finals:
Piers & Lilly
Kendre, Chloe & Amelia-May
Finley & Louella
Ben & Jack
Sam & Lucy
Jess, Rhiannon & Ella
Ellie & Emma
Bethany, Anna & Elektra
Partnerships going to the Inter-Regionals:
Zita & Lilla
Pippa, Charlotte & Jessie
Tom & Zelda
Grace & Chloe
Olivia & Grace
Katie & Jasmine
Hannah, Lowri & Poppy
Full results can be found here.
A huge well done to all gymnasts and coaches! Fantastic performances and results that reflect all the hard work and dedication put in by everyone involved.