19/05/2016
- Competition Results: National Finals & Inter-Regionals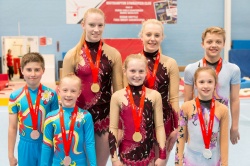 SOUTHAMPTON GYMNASTICS CLUB
ACHIEVES MEDALS AT NATIONAL COMPETITION
Back in March Southampton Gymnastics Club hosted the Acrobatics Prelims Competition at their dedicated gymnastics facility in Redbridge, Southampton. The fantastic achievements at this competition resulted in seven of SGC's partnerships qualifying for the Inter-Regionals, and eight partnerships qualifying for the National Finals.
In April Southampton Gymnastics Club was asked to host the 2016 Inter-Regional Competition, gymnastics clubs from across the country travelled to the Hampshire club, to compete in the 2 day competition. Gymnasts from Southampton Gymnastics Club came away with three gold and one silver medal, an excellent achievement at a National level competition. A stand out performance came from SGC's new partnership, Hannah Winter, Lowri Hegan, and Poppy Chance which resulted in the trio achieving the highest score of the day and a gold medal.
As a result of the Prelims competition, eight partnership from our Southampton Club qualified to the British Gymnastics Acrobatic National Finals held in Stoke-on-Trent. The team of gymnasts and coaches travelled to Stoke on Friday 13th of May and competed in the two day competition. This competition showcases the top gymnasts from each region to determine the National Champions in each level.
SGC's young grade 2 Mixed Pair Piers and Lilly, showed off their cheeky routine brilliantly achieving a fantastic National bronze medal. Grade 4 Mixed Pair Sam and Lucy performed a magical routine in their very competitive category.  Their elegance and romance secured them a National silver medal. Out of Age Trio Anna, Beth and Elektra performed two outstanding routines, the personality of this trio shone through to achieve a well-deserved 1st place, making them National Champions 2016.
Nathan Leworthy, Southampton Gymnastics Club Acrobatics Head Coach said:
"We had 15 partnerships qualify to the Inter-Regional and National Final competitions – an excellent achievement for the gymnasts, coaches and club. The dedication from all the gymnasts is outstanding, training between 4-6 days per week. I am so pleased with all the gymnasts that competed, it was a fantastic experience for our young gymnasts, with excellent results reflecting the commitment and hard work put in by the gymnasts and coaches."
Southampton Gymnastics Club has given thousands of children the opportunity to practice this great sport and offers classes in Pre School, Recreational, Competitive and Elite Gymnastics. For enquiries on how to join the club or if you would like to sponsor the Southampton Gymnastics Club, please call 02380 529952 or visit www.sotongym.co.uk