03/05/2016
- Inter-Regional Competition Results 2016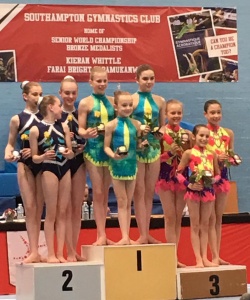 Inter-Regional Acro Competition: 30th April & 1st May 2016
We have had a fantastic weekend at Southampton Gymnastics Club, we hosted the Inter-Regional Acro Competition and we've had some remarkable feedback from the clubs that took part as well as the competition organisers:
'Great hospitality from everyone at Southampton'
'Please could you pass on our thanks to all the team at Southampton who helped set up and run the event over the weekend (special thanks to the 'fundraising team' as always)'
Southampton Gymnastics Club would like to thank all the coaches, parents and volunteers that made the competition run smoothly, we would not be able to host these competitions without the outstanding work of our club volunteers.
The two day Inter-Regional Competition, lead to some fantastic results for Southampton Gymnastics Club:
Grade 2, Women's Pairs:

Olivia & Grace 27.77, Gold Medal

Zita & Lilla 27.02, 5th Place

Grade 2, Groups:   
Pippa, Charlotte & Jessie 26.59, 5th Place
Grade 3, Mixed Pairs:
Tom & Zelda 27.23, Gold Medal
Grade 3, Women's Pairs:   
Katie & Jasmine 27.26, Silver Medal
Grade 3, Women's Groups: 
Hannah, Lowri & Poppy 28.21, Gold Medal
Grade 4, Women's Pairs:    
Grace & Chloe 26.97, 6th Place
 
 
Highest scoring routine of the competition was from our very own Grade 3 women's group; Hannah, Lowri & Poppy with an outstanding score of 28.21 –  well done girls!!!