23/05/2016
- Club Championships 2016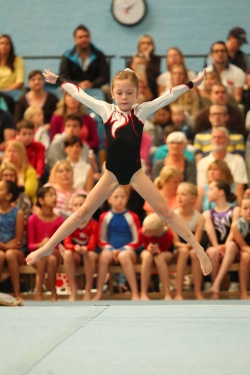 Club Championships 2016
On Sunday 22nd May we held our annual Club Championships, we had 129 gymnasts take part from the following classes; Abbotswood, Adult Gym, Bartley, Holy Family, Recreational, Advanced Boys Recreational, Advanced Recreational, Sholing, Acro Development & Rhythmic.
This year was the first time we saw Rhythmic Gymnastics at our Club Championships, our Rhythmic group train once a week every Tuesday from 5-6.30pm. We you are interested in Rhythmic, please contact the office 02380 529952.
Awards 2016
Most Improved
Matilda Eshak - Recreational
Isobel Bannister – Bartley
Ollie Wilcocks – Boys Advanced
Millie Young - Sholing
Millie Sauders – Abbotswood
Courtney Fields – Holy Family
Eloise Parker – Advanced Recreational
Anna Howlett – Adult Gym
Chloe Green – Acro Development
Sandra Kawa – Rhythmic
Highest Overall Score of the Day
Leslie Hull
The full competition results can be found here.
We would like to say a huge well done to all our gymnasts and coaches – a fantastic day!! We mustn't forget all our volunteers that made the day possible - This event would not be possible without our volunteers! Thank you to all our volunteers!