31/07/2017
- British Championships 2017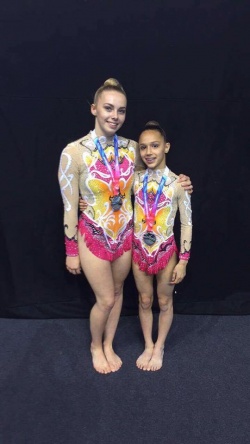 British Championships 2017
After a fantastic qualifying competition at the British Championships in Liverpool on Friday and Saturday, all three Southampton partnerships qualified for the finals!
First up in the morning, was our women's pair Ellie Smith and Becky Robins. The girls performed a beautiful dynamic routine and scored 26.050 placing them in 6th position in the 11-16 women's pair category.
Next to perform in the finals were Beth Goodwin, Rhiannon Ford-Bailey and Abi May our 11-16 women's group. The girls performed a brilliant balance routine demonsrating excellent quality, which scored them 26.400 placing them in 4th position.
Finally, Steph Ricketts and Toula Raftapoulou performed their combined routine in the 13-19 women's pair category. After qualifying top in their category the girls were hopeful of securing a place on the podium. They didn't disappoint, their combined routine demonstrated a great balance of quality, difficulty and artistry, gaining them a well-deserved score of 27.160 placing them in a fantastic silver medal position! 
All three partnerships did an amazing job this weekend and these results wouldn't have been possible without our dedicated team of coaches!
Congratulations to the gymnasts and their coaches for a great weekend and to the Southampton parents for their fantastic support. We hope you all enjoy your well-earned summer break!
British Gymnastics Gala Event 2017
Southampton Gymnastics Club would like to say a huge well done to SGC's mixed pair Sam Yarnall and Lucy Hodgson, who performed at the British Gymnastics Championship Series Gala event in Liverpool this weekend. Sam and Lucy were asked by British Gymnastics to perform a 5 minute routine with the theme of love at their Gala event. They were the only acrobatic performance selected and they did a fantastic job!
A huge well done to their coaching team and their choreographers for all your hard work as well!
Well done Sam and Lucy an excellent achievement and a fantastic routine!