04/08/2017
- SOUTHAMPTON GYMNASTICS CLUB ACHIEVES SELECTION FOR GREAT BRITAIN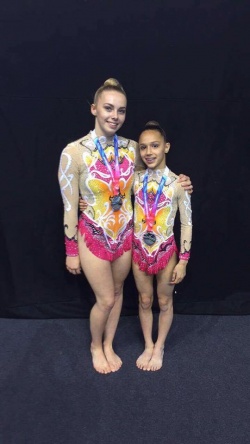 SOUTHAMPTON GYMNASTICS CLUB
ACHIEVES SELECTION FOR GREAT BRITIAN
We are excited to announce that Southampton Gymnastics Club's Junior Women's Pair, Steph Ricketts and Toula Raftapoulou have been selected to represent Great Britain at the Junior European Acrobatic Championships in Poland in October 2017.
Steph and Toula produced high quality routines at both the selection trials in Lilleshall and the British Championships in Liverpool, which has resulted in them being selected for the Junior Team at the Junior European Championships.
The girls have shown such dedication and commitment, having only recently moved up to the Junior (13-19) category. Everyone at SGC would like to congratulate Steph and Toula on this incredible achievement.
This selection wouldn't be possible without our fantastic team at Southampton. Our Head Coach Nathan Leworthy, and his brilliant team of coaches and choreographers, have all worked extremely hard to get to this point - we are all very proud of Team SGC!!
We will continue to post information about Steph and Toula's journey to the European Championships. CONGRATULATIONS GIRLS!!!
We would also like to congratulate all of our gymnasts who participated in trials: Ellie, Becky, Beth, Rhiannon and Abi. It was an invaluable experience for them and we are very proud of their hard work and the quality of the routines they produced.