13/07/2016
- Turin Results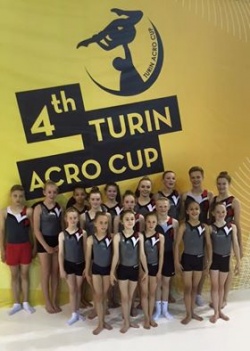 Turin Acro Cup 2016
Results
Friday and Saturday's qualifications resulted in all, but one, of the Southampton partnerships proceeding to the finals.
After performing an excellent balance routine, an uncharacteristic error in their dynamic routine meant that Ellie and Emma narrowly missed out on a place in the finals. In addition to the challenge of increasing their difficulty to meet the demands of 11-16, the girls had also faced injury in preparation for the competition, which makes their achievement of finishing in 9th place all the more impressive.
Finals Day started with the Youth Competition; Beth, Shami and Abi were the first of the Southampton partnerships to compete. Having qualified in first place the trio were under pressure to maintain their position; the girls rose to the challenge and their rousing Paso Doble coupled with cleanly executed dynamic skills secured them the Gold Medal.
Steph and Toula were up next; they had qualified in joint second after opening the competition on Friday with a secure balance routine, followed by a near flawless dynamic routine on Saturday. A confident and technically excellent finals routine, against a very strong field, saw them just outside of a podium position in a very respectable fourth place.
After a challenging start to the competition, Jack and Alex showed great resilience, performing strongly in their dynamic routine and qualifying for the finals in second place. In the final, the boys performed their balance elements with great accuracy and this, combined with their dramatic choreography, raised them into first position and resulted in a second Gold Medal for Southampton.
The 8-16 Competition was next; first up were the talented trio Jess, Rhiannon and Ella. Despite a significant deduction in their qualification routine, due to an error in content, an excellent performance saw the girls qualify in fifth place. Their finals routine was performed with great style and cleanliness and they held their position well, finishing in fifth overall.
After qualifying in first place, Sam and Lucy took to the floor for their finals routine with poise and maturity beyond their years. Despite strong competition from Russia and Hungary, the beauty and quality of their performance convinced the judges to award them first place, a full mark ahead of their closest competition. A third Gold Medal for Southampton.
Finally, in the Junior competition, Katy, Rachel and Mia faced a tough challenge, in their first competition together they were competing against a field of seasoned trios, several being veterans of the Europeans. In the short time they have been working together, the girls have mastered technically difficult skills and complicated routines. In a competition targeted at giving them experience, the girls more than achieved expectations qualifying in third position. A strong finals routine saw the girls just 0.2 outside of a podium place.
The coaching team were really proud of, and impressed by, the gymnasts achievements. The gymnasts have gained invaluable experience of international competition and have proved they are more than capable of competing on an international stage.