12/11/2013
- Southern Region Championships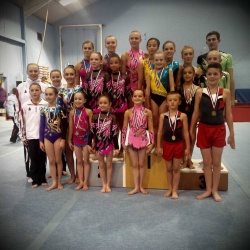 SOUTHAMPTON SUCCEEDS AGAIN
Southampton Gymnastics Club and its gymnasts once again have showed their rise in standards by achieving 5 Gold's and 3 Silver medals at the recent British Southern Region Acrobatic Gymnastics Championships 2013. The team of gymnasts excelled in an event that included gymnasts from clubs that had competed in World Championships.

First up in the Grade 2 Men's Pair Category were Bradley Whitcombe and Tyler Brewer who showed, at their first ever competition, a competent routine for a score if 25.92, definitely an achievement for gymnasts that only joined the group a year ago from a schools class.

In the Grade 3 Women's Group event, Southampton had three different partnerships vying to lead the way. A successful and tidy routine was competed by Bethanie Mutchin, Indie Nash and Jessica Finney for a score of 26.16. The second trio of Shamiso Bright Garamukanwa, Jessica Barry and Abigail May lifted their performance from their previous competition for a score of 27.50 and a well-deserved silver medal was achieved. Following on from their success at the Buckinghamshire Open recently the trio of Hannah Winter, Chantelle Estalles and Elektra Langer stunned the crowd with a cheerful and skilful routine for a score of 27.82 and another gold for them.

Southampton Gymnastics Club prides itself in reaching Southampton's communities through its satellite centres and as such the pair of Kirsty Robertson and Emily Green from our City Acro Centre in Sholing gave a confident performance for a score of 25.40.

As we reached the Higher Grades the gymnasts were under pressure from the success of the younger competitors. They did not let themselves down and gave some commanding performances. The recently formed Women's pair of Toula Raftopoulou and Harriet Sadler competed two confident and stylish routines for a combined score of 54.84 and a well-deserved Gold Medal. In the same category the women's pair of Ella Ridley and Leshanna Churcher where in a tight battle and just came out with the silver medal, scoring 54.29.

We then come to the open level categories which is more demanding and difficult to achieve the highest of scores but didn't deter Southampton's gymnasts. Our mixed pair demonstrating that acrobatic gymnastics is not just a sport for girls, performed great routines to win the gold medal with a combined score of 53.88.

In the age group of 11-16 our women's pair, recently returning to competition gave two performances to boost their confidence in the future, winning the gold medal with a joint score of 54.32. Our newly formed yet promising womens group at the 11-16 age group level showed their style with a collective score of 53.21.

As our acrobats performed at the Southern Region Championships, one of our disability gymnastics performers Hollie Banks attended the British Disability Gymnastics Squad Trial at Lilleshall National Sports Centre and gave a valiant effort and we await the outcome. The very generous donation given to the club to purchase the asymmetric bars certainly helped in preparing for the trial.

Acrobatic and Disability Gymnastics is the most successful discipline of gymnastics in the country with numerous world champions, however it is not an funded sport and as such all training, travel, competition and equipment costs are covered by parents so if there are sponsors out there that are willing to support this long standing community club in Southampton then please contact our development manager Kirsty Lynas on 02380529952 or email sotongym@hotmail.co.uk