06/06/2016
- Squad set for International Competition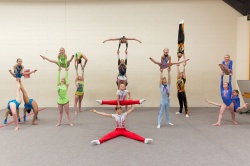 SOUTHAMPTON GYMNASTICS CLUB HEADING TO TURIN, ITALY
Nineteen Hampshire Gymnasts will be representing Southampton Gymnastics Club at the Turin Acro Cup in July. The squad of gymnasts will be flying over to Italy to compete in the 3 day competition, giving them immeasurable competition experience abroad. It is also a great opportunity to raise the profile of Southampton Gymnastics Club on the international stage which only stands to benefit all in the future.
Dedicated gymnasts Steph Ricketts (age 15) and Toula Raftapoulou (age 12) will be part of the squad competing in Turin, Italy. The girls have been working as a Women's Acrobatic Pair for 1 year, training 6 days a week at an international level. Steph and Toula recently achieved a bronze medal at the Kind Edmund International Competition near Bristol.
Being a non-funded sport, the gymnast's families have already invested thousands of pounds into their training to get where they are today. As expected a competition abroad does not come cheap, our gymnasts, coaches and parents are getting involved in a fundraising events in the hope of raising a target £4000. These funds will go towards the cost of travel, accommodation and entry fees for the team. The main fundraising event the team have planned is to collectively walk or run the distance of 841 miles. That is the distance from Southampton Gymnastics Club to the event venue in Turin. This will be done cumulatively over a four week period.
Nathan Leworthy, Southampton Gymnastics Club Acrobatics Head Coach said:
"We are very excited to be taking these talented gymnasts to Turin. It will be an invaluable experience for the team. However, this opportunity does come at a cost to the club and its gymnasts. The club is a not-for profit organisation and without its volunteer coaches and fundraising team we would not be able to support these talented children. The whole team of gymnasts and coaches dedicate a huge amount of time and effort into the sport, and we hope this will be a successful and memorable trip."
We are trying to reduce the costs of this Turin event as much as possible for our team through fundraising events.  Any support or donations from individuals and the local business community would be most gratefully appreciated.
Southampton Gymnastics Club has given tens of thousands of children and adults the opportunity to practice this great sport and offers classes in Pre School, Recreational, Competitive and Elite Gymnastics. For enquiries on how to join the club or if you would like to sponsor the Team on their trip to Italy, please email us admin@sotongym.co.uk, call 02380 529952 or visit www.sotongym.co.uk.
JUST GIVING: We have set up a Just Giving page online, if you would like to donate to the Turin fundraising page please click here.