25/08/2016
- Emma of all Trades - Capital South FM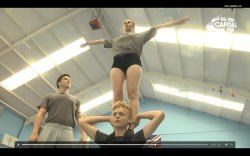 Capital South Coast presenter, Emma trying Gymnastics
Southampton Gymnastics Club were excited to welcome radio presenter Emma from Capital South Coast into the gym, to give gymnastics a go. Emma was inspired by the Olympic Gymnastics success this month and want to try out gymnastics as part of her radio show 'Emma of all Trades'. Emma joined in a training session with a group of our Elite Acro gymnasts, they all had great fun!
The video can be found on facebook: https://www.facebook.com/capitalfmsouthcoast/videos/1141746162530626/
We'd like to thank Emma and Capital South Coast for coming along to Southampton Gymnastics Club, we loved having you here.
Southampton Gymnastics Club has given tens of thousands of children and adults the opportunity to practice this great sport and offers classes in Pre School, Recreational, Competitive and Elite Gymnastics. For enquiries on how to join the club or if you would like to sponsor the club, please email us admin@sotongym.co.uk, call 02380 529952 or visit www.sotongym.co.uk.