28/10/2012
- Bucks Open Acro Competition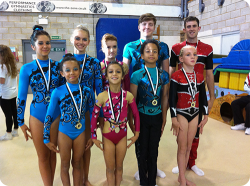 Bright and early on Sunday morning, 9 gymnasts from our Acro squad travelled to Milton Keynes to compete in the Bucks Open. For many of the partnerships this was their first competition together, and after six months of intensive training the gymnasts were keen to demonstrate their new routines.
The boys looked on in bemusement as the girl's parents frantically applied make-up and hair spray getting the gymnasts ready for an early warm up session. As our gymnasts looked on at the competition they remained calm and focused as interest was building from the audience and other gymnasts watching the Southampton Gymnasts.
First up were Craig and Beth with their Grade 3 mixed pair routine. They performed their routine to flamenco music coming out with a well deserved first gold medal of the day for SAGC. Coach Jan Mulholland said "This was the best they had ever performed their routine."

Up next were Hattie and Toula who performed a wonderful grade 3 women's pair routine. Their cheeky performance brought out the best of their personalities. A clean and stable routine showed their competition temperament is strong. A very close competition between the others lead to a well-deserved Silver medal.
After a shock announcement that the afternoon session would be brought forward by an hour and a half, it was suddenly all systems go for the final two partnerships to warm up who had been mentally preparing themselves. The fact that they dealt with such a sudden change showed their calmness.
Safia, Caitlin and Shami were our first partnership of the afternoon, competing in the 11-16 year women's group. Their spectacular leotards matched their stunning performance. They received the highest score of the day, scoring 27.36, securing them the gold medal.

Last but certainly not least was Kieran and Farai competing as a 12-19 year men's pair. A hush fell over the gym as everyone stopped and stared at what was a truly remarkable performance. Their score of 27.08 assured them of a gold medal.
Congratulations to all the partnerships for their fantastic achievements; they are a credit to the club. Keri said "I am very proud of you all and that you should be very proud of yourselves and your achievements." These amazing results have been achieved due to the hard work and dedication of Keri, Caroline, Jan and the team of coaches who support the squad.