22/08/2019
- SOUTHAMPTON GYMNASTICS CLUB ACHIEVE SELECTION FOR GREAT BRITAIN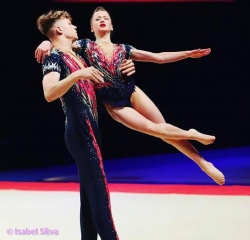 We are excited to announce that our 11-16 Mixed Pair Sam Yarnall & Lucy Hodgson have been selected to represent Great Britain at the European Age Group Championships in Holon (Israel) later this year.
Sam & Lucy produced high quality routines at the pre-selection event in Newton Aycliffe and at both the selection trials in Lilleshall and the British Championships in Liverpool where they were crowned both English & British Champions!! This has resulted in them being selected for the British Team at the Age Group European Championships.
Everyone at SGC would like to congratulate Sam & Lucy on this incredible achievement. This selection wouldn't be possible without our fantastic team at Southampton. Our Head Coach Nathan Leworthy, and his brilliant team of coaches and choreographers, have all worked extremely hard to get to this point - we are all very proud of Team SGC!
We would also like to congratulate Fin & Grace who gained invaluable experience participating in the trials and Kieran and Toula who worked hard preparing to trial but unfortunately were unable to compete due to injury.
We will continue to post information about Sam & Lucy's journey to the European Age Group Championships. CONGRATULATIONS SAM AND LUCY!!!!