14/06/2021
- Southampton duo Yarnall and Banks qualify for world event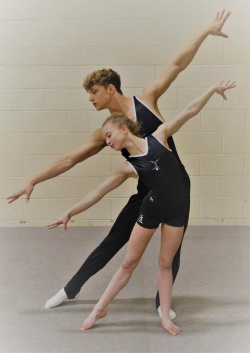 Daily Echo article 11-06-2021
Southampton duo Yarnall and Banks qualify for world event
 
AFTER months of perseverance through lockdown training and competition uncertainty, the hard work of gymnasts from a Southampton club is now paying off – as they are set to compete for Great Britain on the world stage.
The Acrobatic Gymnastics World Age Group Championships will take place in Geneva from June 23-29, with Britain represented in the men's pair, mixed pair, women's group and men's group events. Gymnasts Samuel Yarnall and Jasmine Banks will be competing as a mixed pair.
Their achievement has delighted all at Southampton Gymnastics Club, with all coaches and club team mates looking forward to watching their peers compete internationally for the first time since the COVID-19 pandemic took hold.
Yarnall said: "To be selected was the best feeling in the world - just amazing! My club have been absolutely vital. I've been at Southampton Gymnastics Club my whole career and I wouldn't be anything if it wasn't for the people there - the coaches, choreographers and fellow gymnasts have all made it an incredible journey so far.
 
"We are not a huge club, but it really goes above and beyond to support and guide its gymnasts in both their gymnastics careers and personally.
"Overall, acrobatic gymnastics has made me a much more disciplined person and has also given me amazing opportunities to compete in different countries both for my club and GBR. I love the fact I now have the opportunity to go to Switzerland with the team and it gives me great pride wearing the GB flag on my kit."
Following her call up, Banks knows just how many benefits gymnastics brings for young people, with not just technical proficiency and physical development, but also mental wellbeing, improved self-esteem, and leadership skills.
She said: "To me, gymnastics means building long lasting friendships and learning skills that you wouldn't have the chance to learn anywhere else. From the age of five when I was put into the squad, my coaches supported me in developing my skills.
"Without the club and the support from all my coaches I wouldn't have had this opportunity, and I wouldn't have had a chance to build a second family."