16/02/2020
- Pat Wade 2020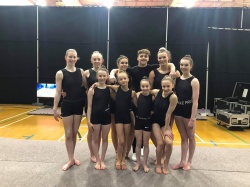 Pat Wade 2020
A brilliant weekend for our FIG and Youth partnerships who competed at the Pat Wade Classic on the 15th and 16th February 2020.
Youth mens pair Tom & Stan performed a brilliant routine finishing in 1st place coming home Pat Wade Champions.
Youth women's group Chloe, Libby & Alys also had a great weekend performing their brilliant routine finishing in third place in a large category. Bronze medals coming home too.
Youth women's pair Charlotte & Emilia competed a beautiful routine and despite illness achieved 4th place. This score was actually joint with third place however in major competitions such as this there is no 'tie' and the partnership with the highest execution score takes the higher placing and in this case Charlotte and Emilia were pipped at the post.
11-16 women's pair Liv & Alba performed two stunning routines finishing with a brilliant bronze medal.
12-18 women's group Beth, Lowri & Millie competed two great routines ensuring their place in the finals qualifying in 6th place. Their combined finals routine was brilliant and they finished in 7th place overall.
12-18 mixed pair Sam & Lucy also qualified for finals in 2nd place after two stunning routines. Their combined routine held their placing and they came home with silver medals.
13-19 women's group Rachel, Hannan & Jaz also qualified for finals in 6th place and after their brilliant routine finished in 6th place overall.
A huge well done to all the gymnasts who competed this weekend. Everyone had a really lovely weekend and came home with invaluable competition experience and a determination to keep working hard in preparation for future competitions.
Well done all... SGC super proud!!