22/08/2019
- SOUTHAMPTON GYMNASTICS CLUB ACHIEVES MEDALS AT NATIONAL TUMBLING COMPETITION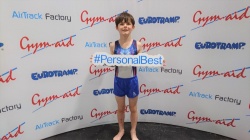 SOUTHAMPTON GYMNASTICS CLUB ACHIEVES MEDALS AT NATIONAL TUMBLING COMPETITION
Earlier this year, Southampton Gymnastics Club had thirteen gymnasts from the Tumbling Squad compete in the Southern Region Prelims Competition. The fantastic achievements at this competition resulted in six talented gymnasts qualifying for the British Gymnastics Semi Finals.
The Semi Final event, held at the Arena in Birmingham, was an opportunity for our Southampton Gymnasts to compete in a large competition with other clubs from across the country. Three of the six gymnasts at this competition qualified for the British Gymnastics, National Development Plan (NDP) Finals; Emily Fisher, Frank Clark and Ethan Jackson-Lowe.
Last weekend our three qualifiers; Emily, Frank and Ethan and Head Coach, Eddy Collins travelled up to the Ricoh Arena in Coventry. This two-day competition saw the top gymnasts from across the country compete for the National Title.
First to compete in the Level 2, 9-10 years category was Frankie Clark. Frankie performed 3 consistent runs. This was Frankie's first National Final competition, in which he scored an outstanding 80.200, securing him a gold medal and being crowned BRITISH CHAMPION.
Next to perform was Ethan Jackson-Lowe, Ethan was competing in the Level 4 Men's under 13 category, and having qualified from the Semi-Final event in first position, the pressure was high. Ethan continued his high levels of execution from the Semi Finals, resulting in first place in all three runs, and therefore achieving gold medal, being crowned BRITISH CHAMPION.
Finally, experienced gymnast Emily Fisher, competed in the International (FIG) Development aged 15+ category.  The first two runs kept Emily in the top half of the category however her third run proved to be more difficult, placing Emily in 7th place overall, with a score of 78.300. A fantastic achievement in an extremely competitive category.
Head Coach Eddy Collins, was extremely proud of all the gymnasts that competed in the Prelims, Semi Finals and National Finals, he said "They flew the flag for the club in all aspects. I can't remember the last time the club has two national tumbling champions – what a achievement!!".
In the discipline of Tumbling, each gymnast performs 3 tumble runs. These are performed on a specialist tumbling track made up of fibreglass poles and laid across side supports, covered with thick foam matting. The tumbling track is 2 meters wide and 25 metres long, with a 10-metre run up platform which is 1 metre wide, which leads onto the tumble track. At the end of the tumble track is the landing zone, made up of thick deep safety mats, on which the last tumbling skill is performed. At Southampton Gymnastics Club, based in Redbridge, the club is fortunate enough to have a purpose-built specialist gymnastics centre with a tumble track for training. For more information about the club's venue please visit www.sotongym.co.uk.