09/01/2015
- Mike Walker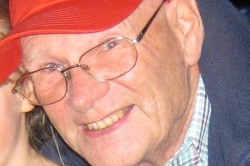 Mike Walker, former British National Coach in Acrobatic Gymnastics, passed away on December 30, 2014, at the age of 78 years, after a long illness. It is with heartfelt sadness that Southampton Gymnastics Club announces this loss to the gymnastics community.
Mike, along with his wife Pat, began coaching as a parent volunteer in the seventies, leading to a career that spanned over three decades as a coach with a great passion for the development of Acrobatic Gymnastics at club, regional, national and international level.
The fundamental spirit that underpinned Mike's work within the sport was one of inclusion and friendliness combined with a desire to share knowledge which he so freely imparted to so many developing clubs across the country.
Mike led Southampton Gymnastics Club in cementing Acrobatic Gymnastics as a discipline within the country, with gymnasts from the club achieving many firsts within the sport with World, European and International medals at a time when this was a rarity within British Gymnastics. This resulted in Mike's appointment as British National Coach for Acrobatic Gymnastics, where the success of Great Britain continued and participation in the discipline across the country grew. Mike achieved this by recognising that the selfless sharing of knowledge via training camps, regional and national squads, combined with making the Club open to all, would ensure that there was abundant opportunity for all interested gymnasts and coaches to learn about the sport. Indeed it is true to say that Mike was amongst those who created the sound building blocks for the incredible success that Acrobatic Gymnastics has achieved in Great Britain.
Mike had concern for gymnasts as people first, ahead of their sporting success, and gave numerous young people structure and opportunities in their lives, which they otherwise would not have had. Where children came from disadvantaged backgrounds he made great effort to find ways to overcome barriers and showed great commitment to support them in achieving their gymnastic potential.
We applaud, thank and admire Mike for the tireless effort he gave to the sport. He will be remembered with such fondness.
The Funeral Service will take place on Friday 30th January at Southampton Crematorium, East Chapel at 2.00 p.m. No black please and family flowers only. Co-operative Funeralcare (Inc R Hallum) 185 Long Lane, Holbury, SO45 2PA.
Paying tribute to Mike's belief that anyone should have the opportunity to participate in the sport irrespective of their background, the Mike Walker Trust Fund has been set up to help give those that are financially disadvantaged the chance to take part in gymnastics. If anyone would like to contribute to the fund in honour of Mike, please contact Ray Matthews on 023 8178 8647.
c/o Caroline Hodgson