28/02/2014
- King Edmunds FIG International Invitational 2014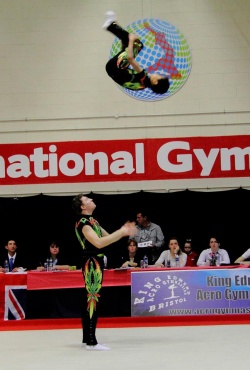 SOUTHAMPTON FACE FIERCE COMPETITION WITH THE BIG GUNS OF ACROBATIC GYMNASTICS
KING EDMUNDS FIG INTERNATIONAL INVITATIONAL COMPETITION 2014
As the dust had settled from Southampton's successful weekend of competition at the King Edmund NDP Competition, our more senior FIG gymnasts were preparing for the battle that lay ahead at the prestigious and well attended King Edmunds FIG International Invitational Competition 2014.
The timing of this competition means that it is attended by a large number of clubs across the country and can almost be deemed as the unofficial Pre British Championships. The depth of talent and top flight clubs across the country in Acrobatic Gymnastics is incredible. If you are competing against the best in this country – you're competing amongst the best in the world.
An unfortunate injury left the well prepared and skilful 11-16 age group pair of Heather Calder and Mia Nash on the side-lines watching and supporting their team mates.
Up first were our 11-16 Women's group of Stephanie Ricketts, Safia Liesnham and Abigail West performing their catchy, uplifting and well-choreographed dynamic routine. All the girls' skills of thrown somersaults, catches and twisting elements were performed with a great level of technical skill, leaving them in fourth place after the first routine.
Going into their second routine, made up of intricate balances matched with an emotional performance, gave them a score of 27.25, well in contention of the final routine. The girls' target was to beat their balance score which is always difficult when the judges have already seen the routine before. They certainly didn't disappoint and built their score to 27.45. The one hurdle that can't be jumped over is that this trio has an automatic deduction of at least .5 on every routine due to size deductions between the partners. As such they have to perform to the best of their ability and deliver a clean and faultless routine. If we unofficially added the .5 back onto their score this well prepared and skilled trio would have come second. A truly brilliant performance against some of the best in the world.
The boy's senior pair of Kieran Whittle and Farai Bright Garamukanwa have shown such incredible vigour, inner strength and a great deal of patience in their journey as a men's pair. A number of growing injuries have interrupted this very talented pair's preparation, self-belief and success opportunities. However, they have again fought back and started training fully two months ago.
The boys were first up with their balance routine, competing all new elements in their routine, upping their difficulty considerably from their last competition six months ago. The boys should be delighted with well held, controlled and difficult balances within their routine. They were only .2 behind in their technical score from the 2013 junior world champions – something to be proud of.
As the boys approached their dynamic routine, they had both the pressure of having completed a good balance routine but also a dynamic routine with three new elements they had never competed before. They completed them well and confidently. A slight under rotation in one of their skills had a deduction against them but nevertheless, a well-executed routine. All this pair needs to do is continue to train positively and have many more competitions to dust of those competition nerves, when I am sure they will shine even more.
WELL DONE TO ALL GYMNASTS