02/04/2012
- GMPD Squad Special Olympics success!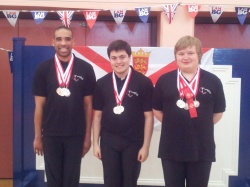 Three young men from Southampton Gymnastics Club GMPD Squad competed at the Special Olympics Gymnastics competition in Jersey 17th & 18th March 2012. Almost 250 gymnasts from across the UK and Channel Islands took part in the Special Olympics Southern Region contest in Jersey.
Alex and Ricardo competed on Saturday 17th March 2012, with Alex winning an overall 2nd place in Level 1 U21's and medalling on four out of the six apparatus.
Ricardo won medals on all six apparatus, Gold on both Pommel and Vault with a well deserved overall second place in the Level 2 under 30's age group. He scored an amazing 19.50 out of 20 on the Vault!
Tommy competed on the Sunday 18th March 2012, feeling some pressure from the guys results from the day before, but he also managed to perform brilliantly, clinching gold medals on parallel bars, high bar and floor, and medals on all other apparatus, with a score of 19.00 awarded for his floor routine. Tommy has scored highly enough all round to bring home the over 1st place in Level 2 U21's!
A great weekend for the Southampton Gymnastics Club GMPD Seniors! Great job lads!
These gymnasts are looking for funding and sponsorship to help fund their competitions and kit, so please contact us on 023 8052 9952 if you think you can help with this! Or if you are interested in joining our group, please email sotongym@hotmail.co.uk
SPECIAL OLYMPICS GREAT BRITAIN - WHO ARE WE:
Some people think that Special Olympics involves just a few days of games once or twice a year. In reality, the training never stops and is as important as the competition itself. Special Olympics offers a lifetime of learning through sport and benefits individuals of all ages and ability levels – from those with low motor abilities to highly skilled athletes.
Special Olympics Great Britain was established in 1978 as part of Special Olympics Inc. Special Olympics GB is a registered charity and a company limited by guarantee. Through 135 clubs in England, Scotland and Wales, we provide training and competition programmes in 26 sports.
We presently offer opportunities to more than 8,000 children and adults with intellectual (learning) disabilities in Great Britain and our aim is to reach out to a further 12,000 new athletes and 4,000 volunteers by the end of 2013