04/08/2015
- British Gymnastics Championship Series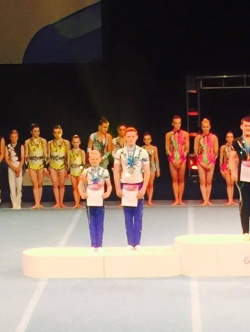 A huge well done and congratulations to our three partnerships who competed at the British Championships in Liverpool this weekend.
A slightly nervous start for Anna & Morgan in their Balance routine however the girls came back much stronger in the Dynamic and made big improvements on their execution scores finishing in 7th place in the 12-18 WP category.
Also competing in the 12-18 WP category were Heather and Mia who performed two very strong routines in the qualifier and made it through to the final in 4th place.The girls again started their final routine with strong clean elements however an unfortunate error was made at the end of the routine. Heather & Mia still managed to keep their standing and finished in a very respectable 4th place.
Callum & Alex started the qualifiers with two very strong routines making a significant improvement on their execution score in the Dynamic routine from previous competitions. The boys went into the finals in 2nd place to perform again a clean combined routine keeping their standing to finish in a well deserved 2nd place.