09/05/2014
- Summer Tournament 2014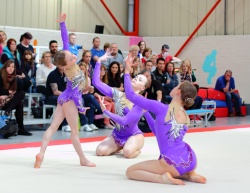 SOUTHAMPTON GYMNASTS
SPRING TO SUCCESS AT MK SPRINGERS
SPRING TO SUCCESS AT MK SPRINGERS
A large group of forever eager and ambitious gymnasts participated in the Southern Region Summer Tournament at the MK Springers Club in Milton Keynes on Saturday 26th April 2014.
The competition for many was a preparation event for the forthcoming National Inter Regional Championships or the National Development Plan Finals.
With memories of Southampton's success last year at this event, we wondered if it was possible to improve on the results.  The gymnasts stepped up to the challenge and surpassed expectations.
Grade 2 Men's Pair
Tom Kelly / Kian Andrews 26.19 GOLD
Grade 2 Women's Group
Grace Hales/Grace Aislinn/Amy Ryhmes 27.25 GOLD
Grade 3 Women's Pair
Ellie Smith / Emma Ford Bailey 27.71 GOLD
Grade 3 Women's Group
Chantelle Estalles / Hannah Winter / Elektra Langer  27.75 GOLD
Bethany Mustchin / Indie Nash /Jessica Finney 27.36 SILVER 
Grade 3 Men's Group
Oliver Hodges / Sam Winter / Piers Pegg / Jack Chick 26.48 GOLD
Grade 5 Women's Pair
Ella Ridley / Leshanna Churcher – ONLY ONE ROUTINE COMPETED - 27.62 SILVER
Out of Age Mixed Pair
Craig Carter / Bethanie Goodwin – BALANCE 27.25, DYNAMIC 27.45 – 54.70 – GOLD
11-16 Age Group Women's Group
Stephanie Ricketts / Safia Liesnham /Abigail West – ONLY ONE ROUTINE COMPETED – 27.50 GOLD
11-16 Age Group Women's Pair
Heather Calder / Mia Nash – BALANCE 27.45, DYNAMIC 27.65 – 55.10 – GOLD
Senior Men's Pair
Kieran Whittle / Farai Bright Garamukanwa – BALANCE 28.65, DYNAMIC 27.09 – 55.74 GOLD
9 GOLDS AND TWO SILVERS
FANTASTIC